21.5" 3G-SDI/ HDMI Production Monitor with IPS FHD 1920x1080 Waveform Vector Scope Histogram P215-9DSW
Model:P215-9DSW
Introduction
Screen Size:  21.5" IPS
Resolution:   1920x1080 pixels
Aspect ratio: 16:9
Brightness:   250cd/m²
Input
3G-SDIX2, HDMI, YPbPr, Video, Audio(L/R)
Output
3G-SDIX2, HDMI, YPbPr, Video, Stereo Headphone, Speaker(built-in)
DM
Download

OVERVIEW

FEATURES

SPECIFICATIONS

VIDEO

APPLICATION

ACCESSORIES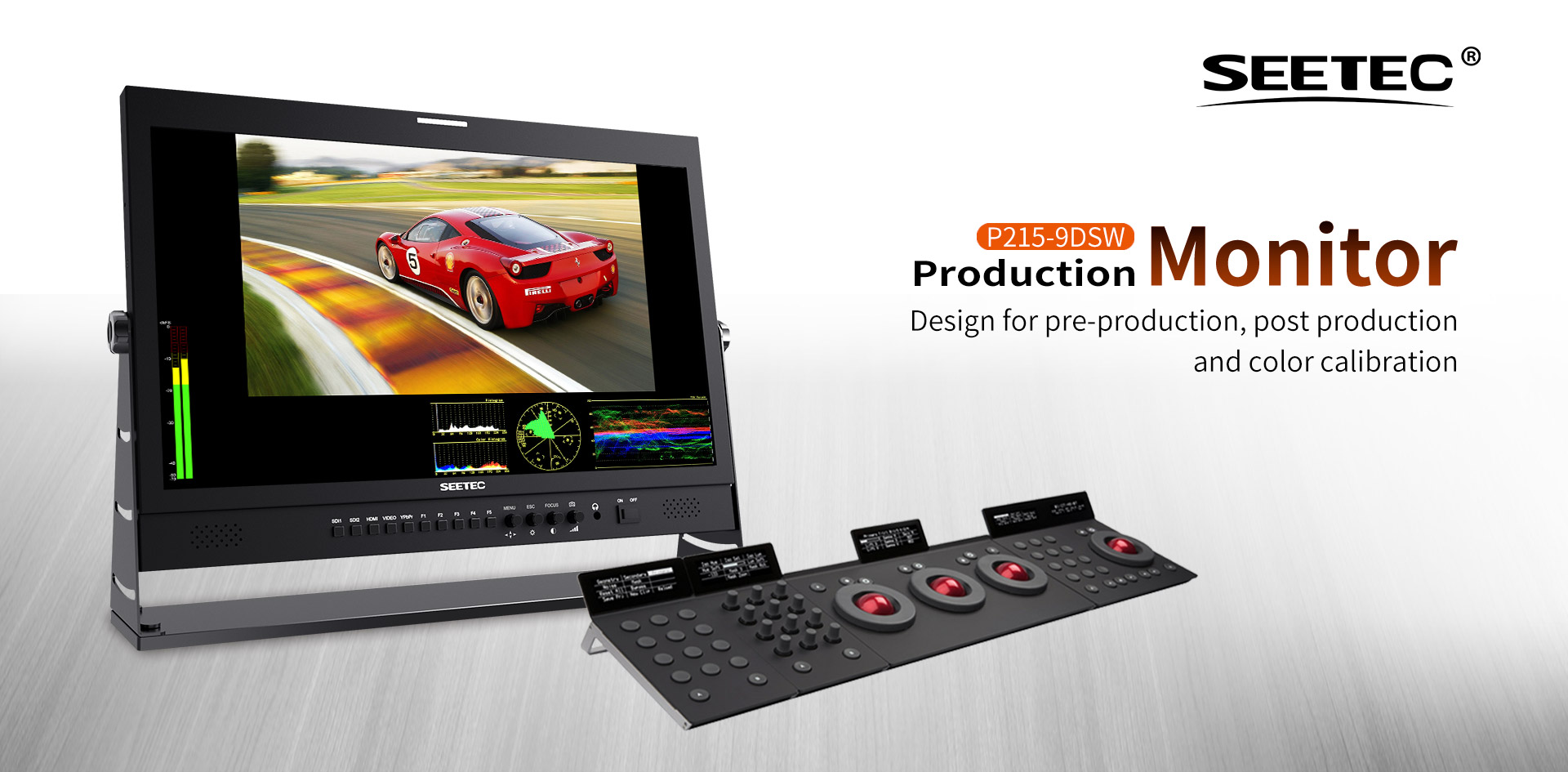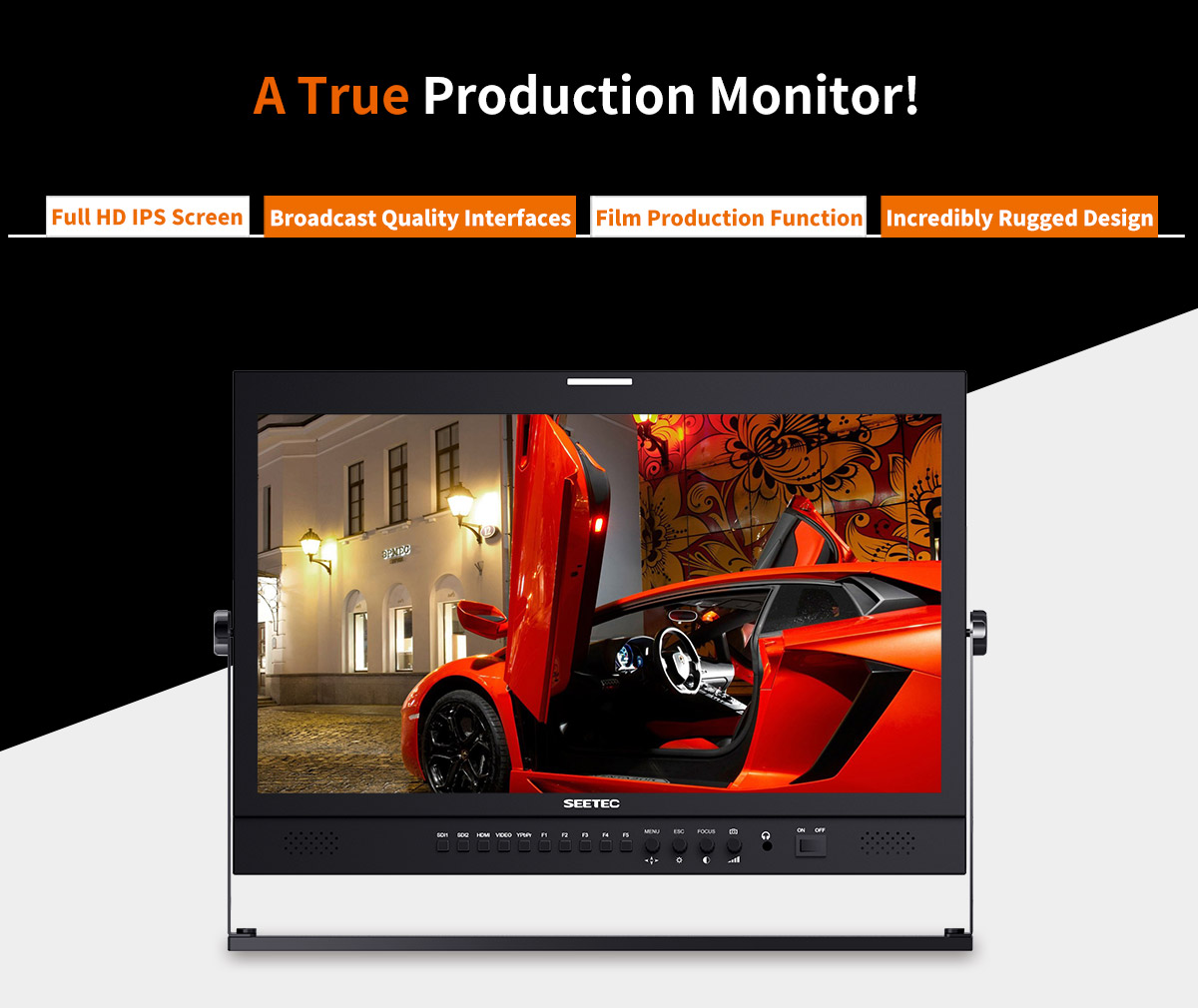 More Auxiliary Functions
More professional functions assist users to accurately monitor when shooting, making and playing movies/ videos.

Full HD
Resolution
Broadcast quality,see every little detail in massive Full HD quality!
Experience Full HD 1080P, 16.7 million color images, more clearer and sharper details, showing powerful color display capabilities, what you see is truly what you get! Let pre-production and post production more accurate. 21.5 inch large size, allows you to see every pixel.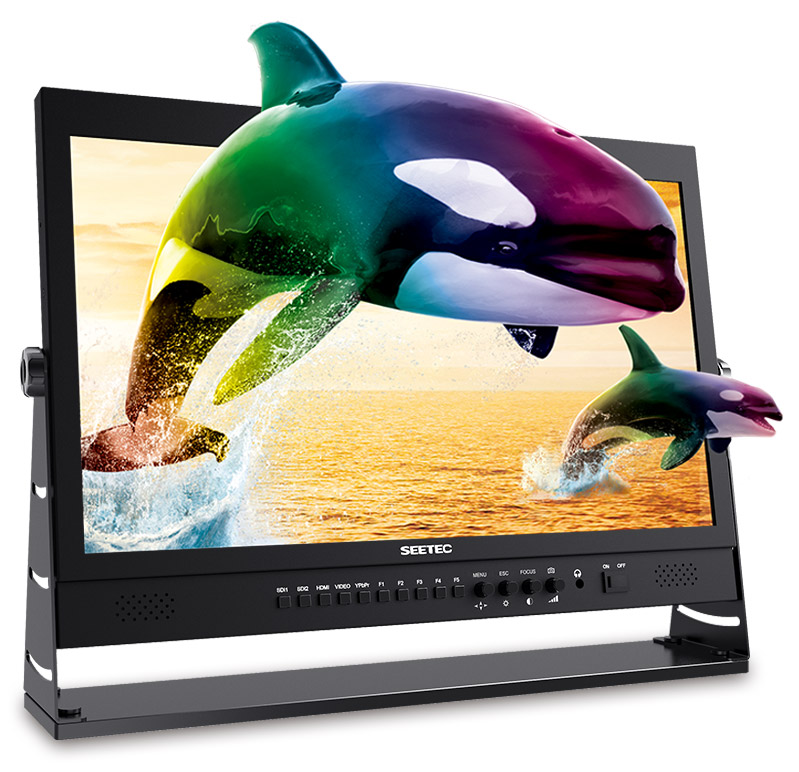 178° Wider View Angle
High Quality: no brightened dot, no streaking
178° Wider View Angle: enjoy consistent images from any perspective
More Precise Color Restoration: wide color gamut LCD panel ensure the monitor more precise color restoration exquisite picture quality more rich color levels.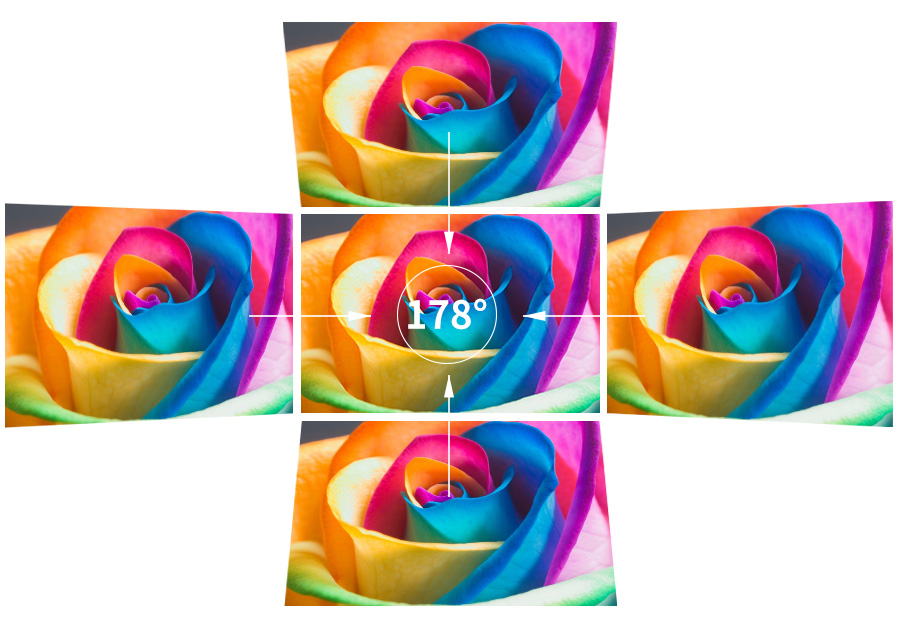 Innovation
OSD Operation
Easy of Operation
Switch signals quickly: SDI 1, SDI 2, HDMI, VIDEO, YPbPr
Five assignable shortcut keys: F1, F2, F3, F4 and F5 for fast access to the functions you needs, Waveform, Vectorscope, Histogram, Peaking, False Color and other functions by mean of push button.
Four rotary encoder switches: immediate access to Menu, Brightness, Contrast, Focus, Camera Mode.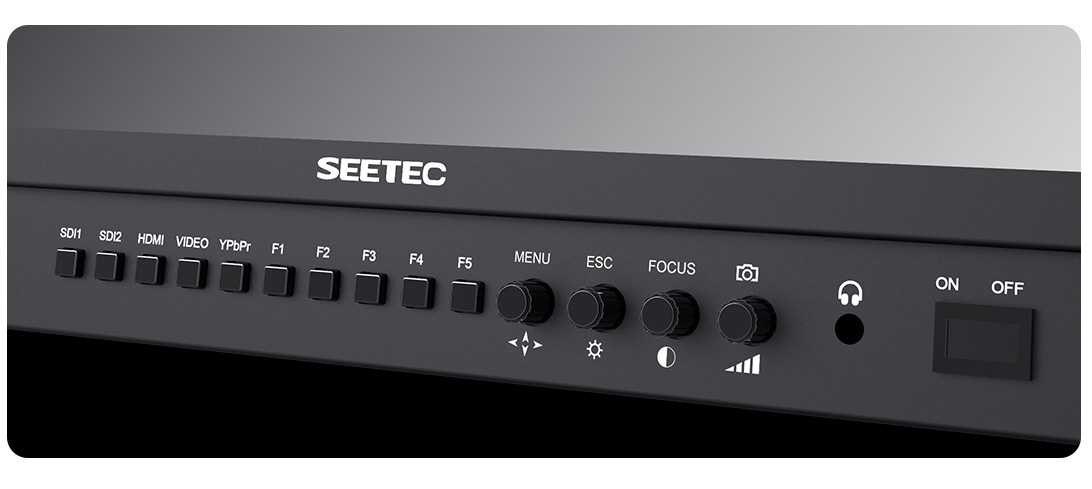 Professional
Monitoring
Broadcast quality SD, HD and 3G monitoring!
P215-9DSW is an incredibly high quality monitor that's versatile enough to be used from the broadcast facility, mobile live production or on set for feature film production! The monitor comes with 2x3G/HD/SD -SDI, HDMI, Audio, Video input and output. Multiple input formats to meet all HD, SD, analogue video signal input and display demand Professional functions set.
When you need high quality monitoring, SEETEC monitors are the perfect solution!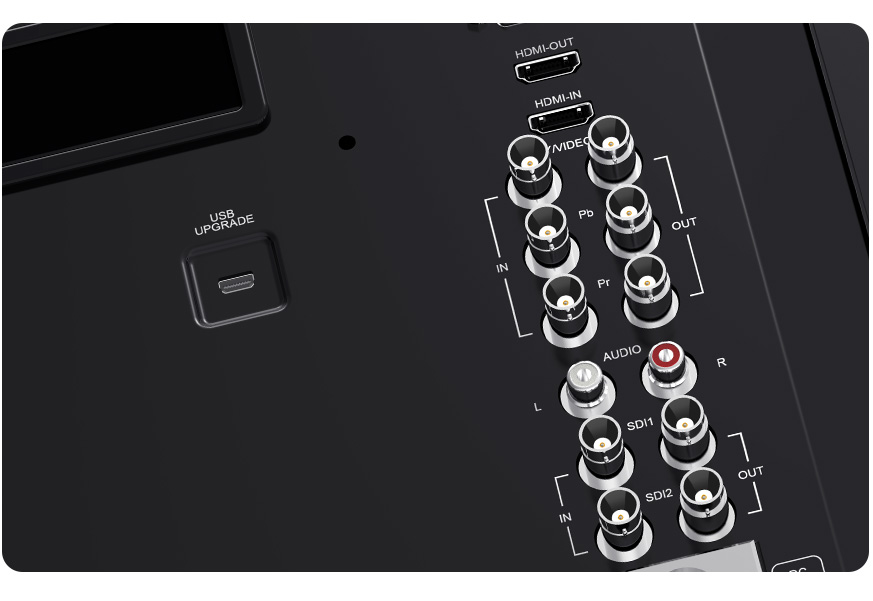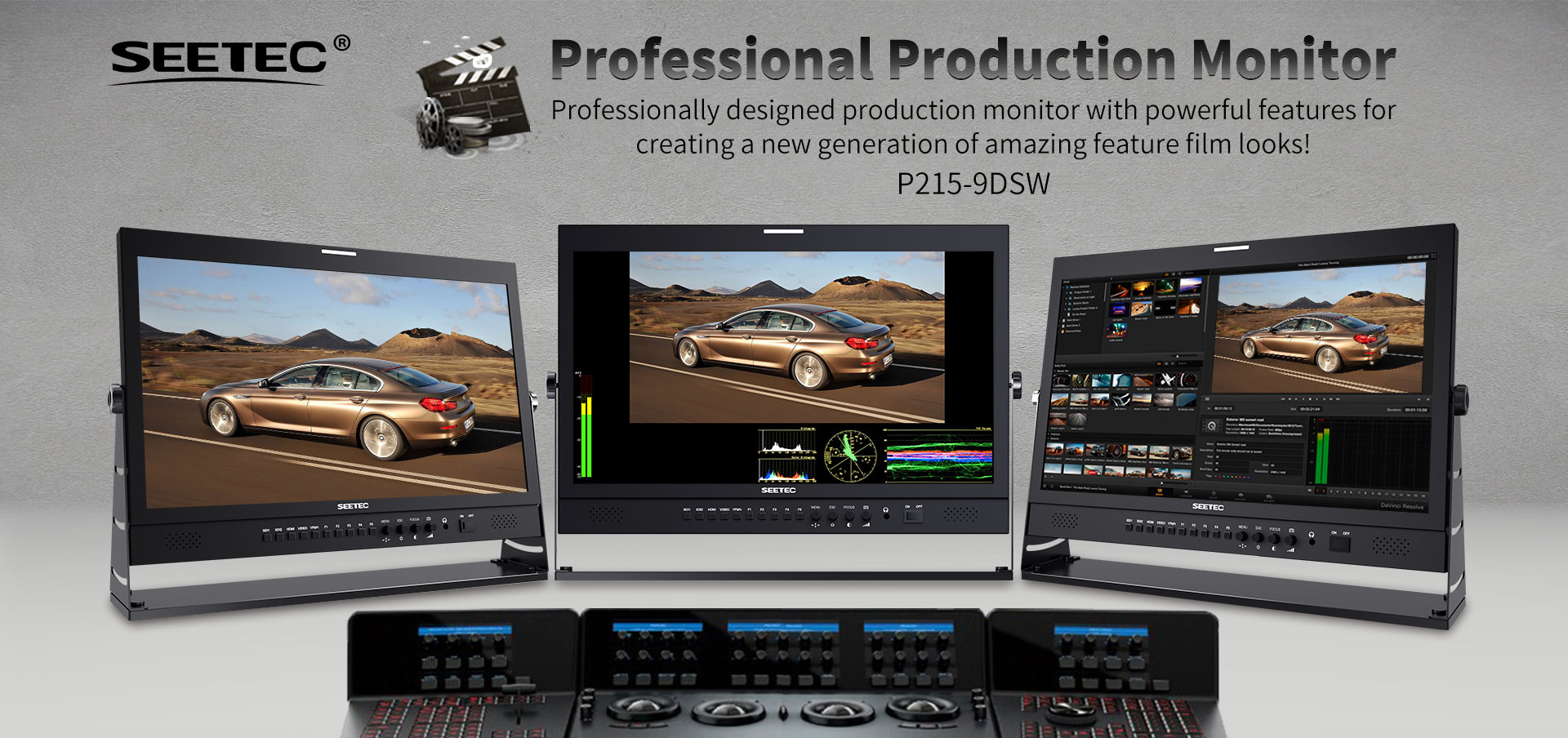 Broadcast
Features
A true production monitor!
When you need to analyze image quality more accurately than simply looking at the picture then use P215-9DSW's built in waveform monitoring! You can view two independent sources simultaneously and conveniently switch between monitoring or scope views whenever you need! Choose from Waveform (RGB parade, YUV parade, Y parade), Vectorscope, Histogram and Audio Level Displays, and get broadcast accurate waveform monitoring that shows everything you need to know technically about your video and audio signals. P215-9DSW removes the need for separate expensive scopes!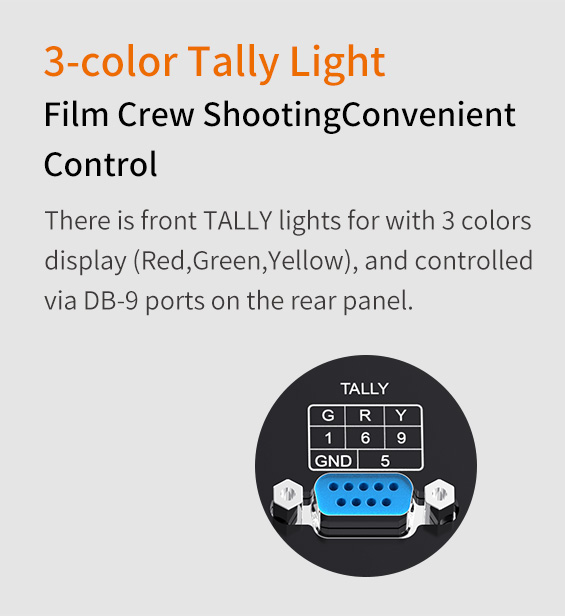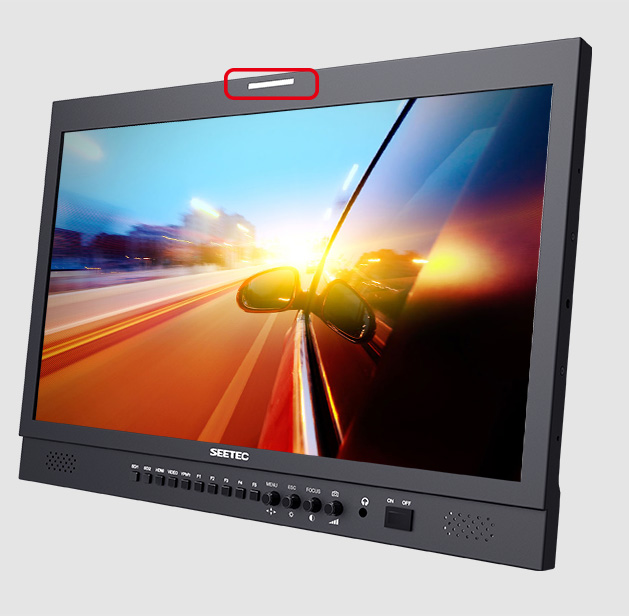 Hassle-free
Power
Monitoring anywhere you need it!
We've made it easy to power the monitor. The P215-9DSW can be powered in two ways: with an DC adapter or lithium batteries. The P215-9DSW has a flexible battery system that supports V battery plate (standard), Anton Bauer battery plate of your choice.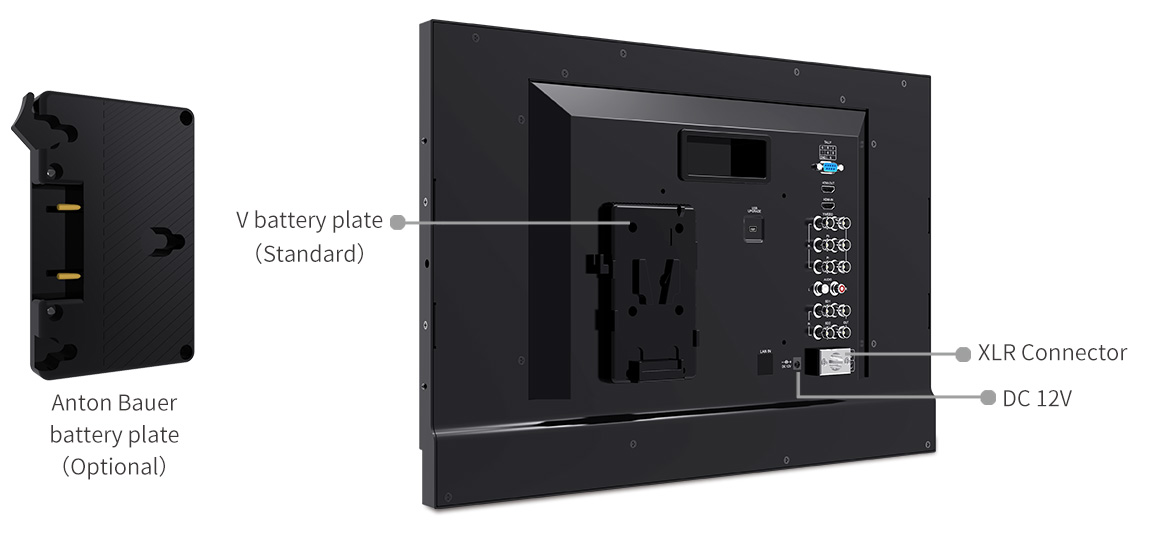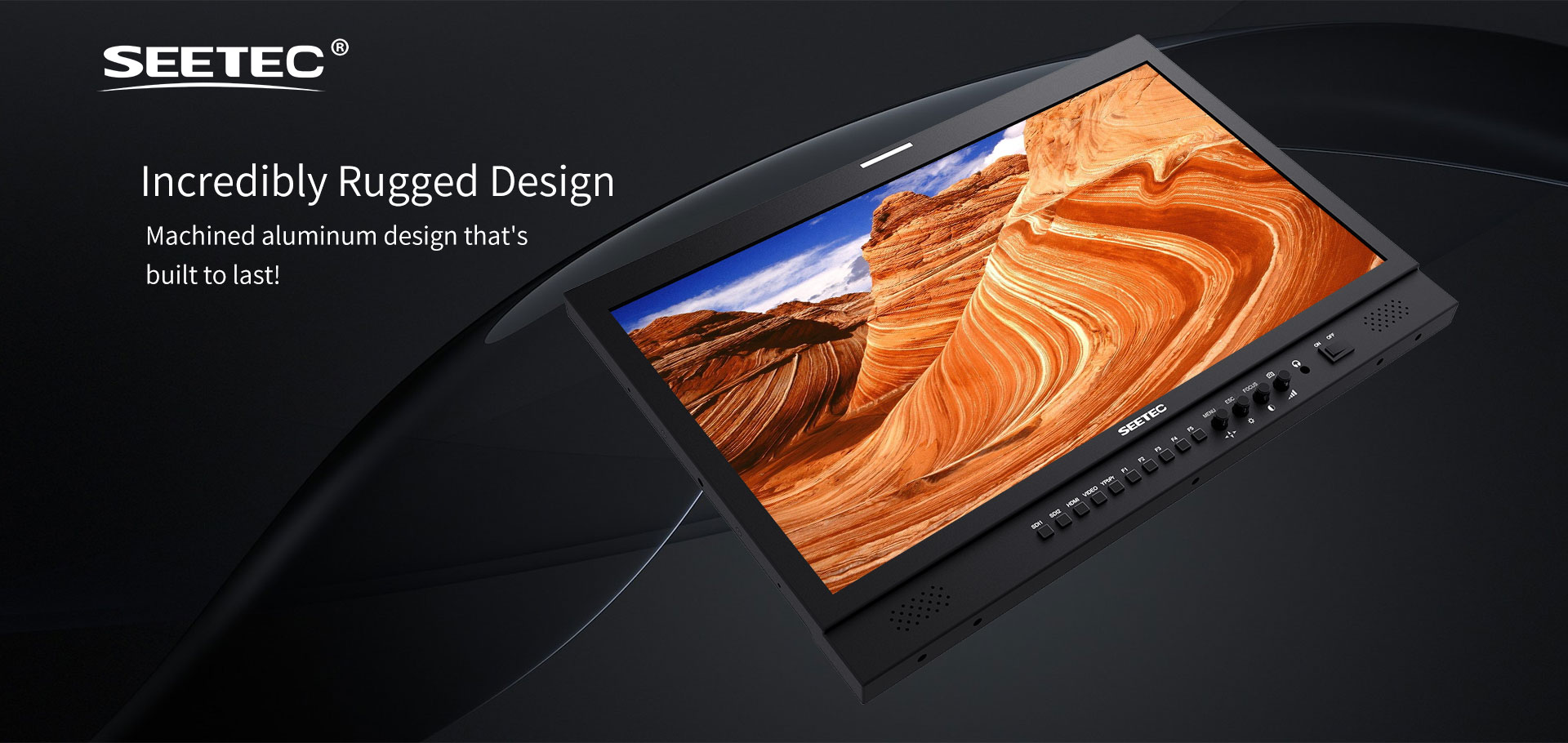 1. 1920×1080, 3000:1 contrast, IPS wide view angle H/V 178°
2. 3G/HD/SD-SDIx2, HDMI, YPbPr, Video, Audio (L/R) inputs
4. Monitoring via front panel 3.5mm stereo headphone jacks, built-in speaker
5. Built-in LED tally indicators
6. Power using included 12-volt supply or use standard 4-pin XLR
7. Special Features:
*Waveform (RGB, YUV, Y (Luminance)
*Vector Scope
*Color Histogram
*Histogram
*Embedded Audio Meter
*Focus Assist (Red, Green, Blue, White four color optional highlight over parts of the image in focus)
*False Colors
*Zebra Exposure
*Check Field (Gray/ Red/ Green/ Blue)
*Internal Colorbar
*Camera Mode
*Scan Mode (Auto, Over Scan, Full Screen)
*Pixel to Pixel
*Real time video zoom-in (Standard, 4x, 9x,16x)
*Anamorphic Mode (1.3x, 2.0x, 2.0x mag)
*Image Flip (Horizontal, Vertical, Hor&Ver)
*Image Freeze
*Nine Grid
*Center Marker
*Safe Area (80%, 85%, 90%, 93%, 96%)
*Marker Type (16:9, 4:3, 2.35:1, 1.85:1)
*Marker Color (Red, Green, Blue, White, Gray, Black)
*
Color Temperature Adjustment

Video Analysis Assistant Pattern
Waveform / Vector scope / Histogram
Waveform
This essential feature assists with the calibration of professional video cameras. It shows the overall brightness of the image assisting the video professional in correcting exposure. The waveform feature also checks the evenness of the lighting when lighting a chromakey or background.
Vectorscope
Vector scope shows how saturated the image is and where the pixels in the image land on the color spectrum. It can also be displayed in various sizes & positions, that allows users to monitor color gamut range in real time.
Color Histogram
Color histogram is a graphical display of the distribution of tones, shows the Red, Green and Blue channels in overlay histogram. Suitable for HD-SDI and HDMI signal monitoring.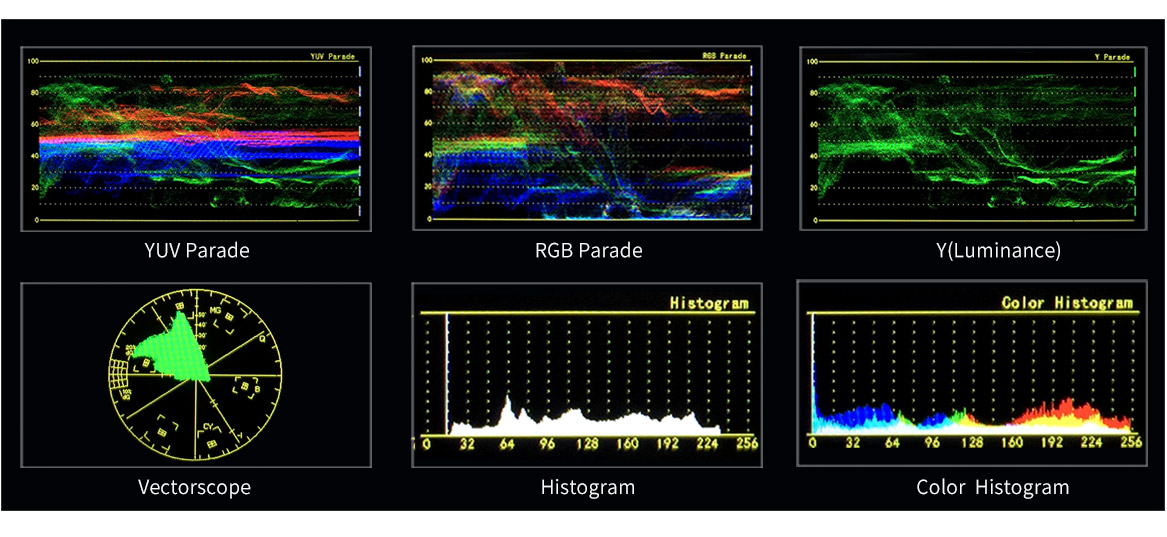 All Scopes Mode




This mode shrinks your video image to approximately the size of a 21.5" display and tiles your choice of vectorscope, histogram, and waveform on the border of your video.
Brightness Histogram
The Brightness Histogram is a quantitative tool to check the picture brightness. The feature shows the distribution of brightness in an image as graph of brightness along the horizontal axis (Left: Dark, Right: Bright) and a stack of the number of pixels at each level of brightness along the vertical axis.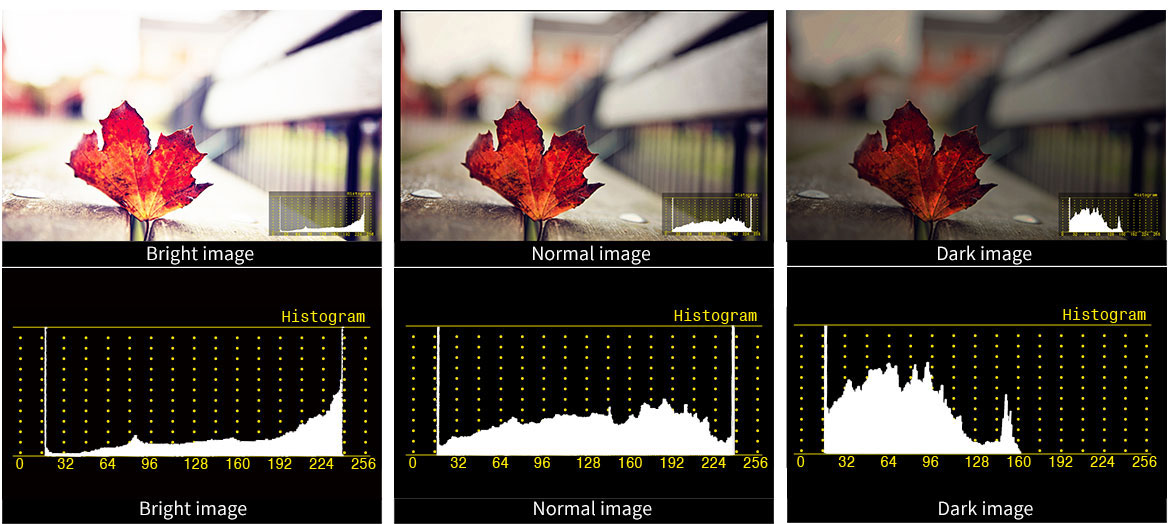 Embedded Audio Monitoring




The Audio Level Meters provide numerical indicators and headroom levels. It can generate accurate audio level displays to prevent errors during monitoring. The audio meter is green, and will turn yellow when exceeds -20dB, and turn red when exceeds -9dB.
Peaking Focus Assist
The Peaking Filter is used to aid the camera operator in obtaining the sharpest possible picture. When activated, the internal processor will display a colored highlight on the screen where sharp edges appear. You can switch the putline color between red, green, blue and white according to different tone of the subject. Peaking focus assist has High-low level to adjust, and also available during video zoom-in.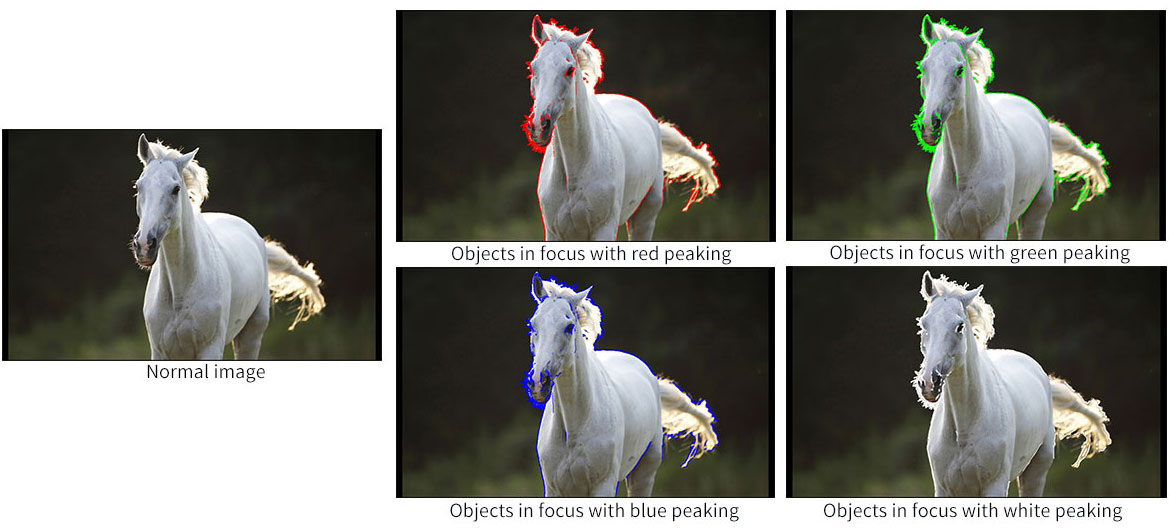 False Color
The False Color filter is used to aid in the setting of camera exposure. As the camera Iris is adjusted, elements of the image will change color based on the luminance or brightness values. This enables proper exposure to be achieved without the use of costly, complicated external test equipment.

Exposure (zebras)
The Exposure is used to assist in exposure adjustment in the mode of Zebra Pattern, it is considered overexposed and displays the moving warning lines onto the over exposed areas.

Check Field
Check Field is an assistant function to adjust camera color settings. Under the check field mode, you can use red, green, blue or mono pixels to generate the image, because hue and saturation can be adjusted more quickly and accurately in this environment.

Internal Colorbar




Analyze monitor image color, adjust tone & brightness, etc.
Camera Mode Function
It will be full screen under camera mode.

Scan Mode
Auto, Overscan, Full screen.

Pixel to Pixel
Enable the filmmaker to check the image from the 1:1 signal source without scaling. This feature is essential for capturing optimum detail.

Zoom In (4X, 9X, 16X)
Image magnification is HD signal in any part, an amplification for high quality close-up.

Anamorphic Mode
Built-in selection of no squeeze, 1.3× or 2.0× allows you to use anamorphic lenses or adapters and see the image unsqueezed, even if your camera does not de-squeeze in camera. A 2.0× mag mode, magnifies the center of your image so you can check the focus of your scaled image.

Image Flip
The Horizontal, Vertical and Hor&Ver of the image around flip.

Nine Grid
Zoom one of the images to realize the full screen. You can switch the Mark color between Red, Green, Blue, White, Black, Cyan, Purple, Yellow according to different tone of the subject.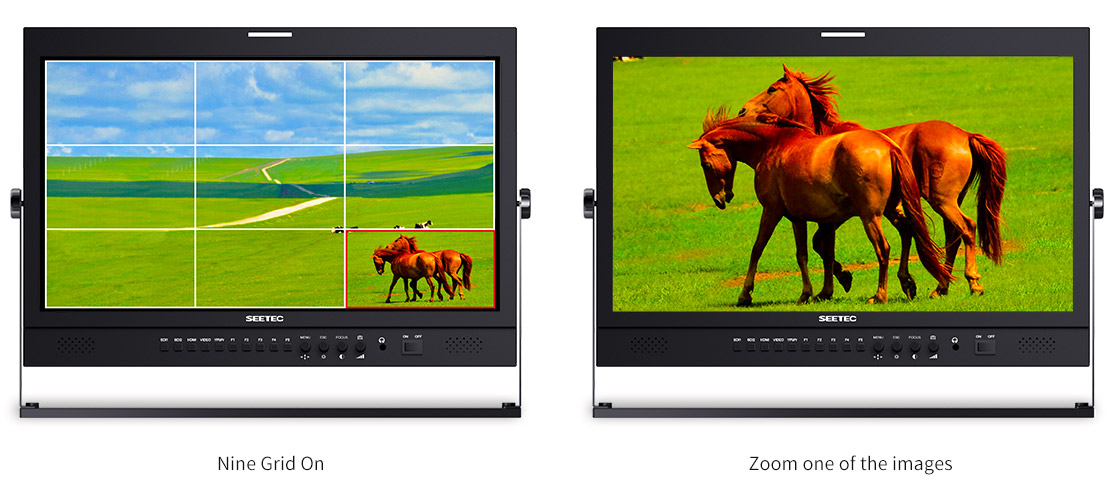 Center Marker & Safe Marker
Safe Mark for View Finding and Composition (80%, 85%, 90%, 93%, 96%). You can switch the Mark color between Red, Green, Blue, White and Black according to different tone of the subject.
Marker Types
It has 6 colors for option (Red, Green, Blue, White, Black, Gray).

| | |
| --- | --- |
| Model | P215-9DSW |
| Size | 21.5" IPS |
| Display Colors | 16.7M (8-bit) |
| Resolution | 1920×1080 pixels |
| Pixel Pitch | 248.25 × 248.25 um |
| Aspect Ratio | 16:9 |
| Brightness | 250cd/m² |
| Contrast Ratio | 3000:1 |
| Backlight | LED |
| Viewing Angle | 89°/89°(L/R) 89°/89°(U/D) |
2 X BNC

3G-SDI

1 X HDMI

HDMI

3 X BNC

Y/ Pb/ Pr

1 X

BNC

Video

2 X RCA

Audio(L/R)

1 X USB

USB Upgrade

1

X DB-9

Tally
2 X BNC

3G-SDI

1 X HDMI

HDMI

3 X BNC

Y/ Pb/ Pr

1 X

BNC

Video
| | |
| --- | --- |
| Audio Out | Stereo Headphone, Speaker |
480i/576i
720p(60/59.94/50/30/29/25/24/23.98)
1080i(60/59.94/50)
1080p(60/59.94/50/30/29.97/25/24/24sF/23.98/ 23.98sF)
480i/576i/480p/576p
1080i (60/59.94/50)
720p (60/59.94/50/30/29/25/24/23.98)
1080p (60/59.94/50/30/29.97/25/24/24sF/23.98/ 23.98sF)
| | |
| --- | --- |
| Input Voltage | DC12~24V |
| Power Consumption | ≤19W |
| Power Connector | DC/ 4-pin XLR |
| Battery Plate | V-Mount (Standard); Anton Bauer (Optional) |
| Working Temperature | -10°C~50°C |
| Storage Temperature | -20°C~60°C |
| Unit Size | 511.58Lx355.5Hx37.87D (mm) (Without Bracket) |
| Unit Weight | 4.51kg / 6.44kg (With Bracket) |
* Waveform (RGB,YUV,Y (Luminance))
* Vector Scope
* Color Histogram
* Histogram
* Embedded Audio
* Peaking Focus Assist ( has High-Low level to adjust; Red, Green, Blue, White four color optional highlight over parts of the image in focus)
* False Colors
* Zebra Exposure
* Check Field (Red,Green,Blue,Mono)
* Internal Colorbar
* Camera Mode
* Scan Mode (Auto,Over Scan, Full Screen)
* Zoom (Auto,4x,9x,16x)
* Anamorphic Mode (1.3x,2.0x,2.0x mag)
* Image Flip (H, V, H/V)
* Image Freeze
* Nine Grid (Zoom one of the images to realize the full screen)
* Pixel to Pixel
* Center Marker
* Screen Marker (80%, 85%, 90%, 93%, 96%)
* Marker Types (16:9, 4:3, 2.35:1, 1.85:1)
* Color Temperature Adjustment
* Built-in LED tally indicators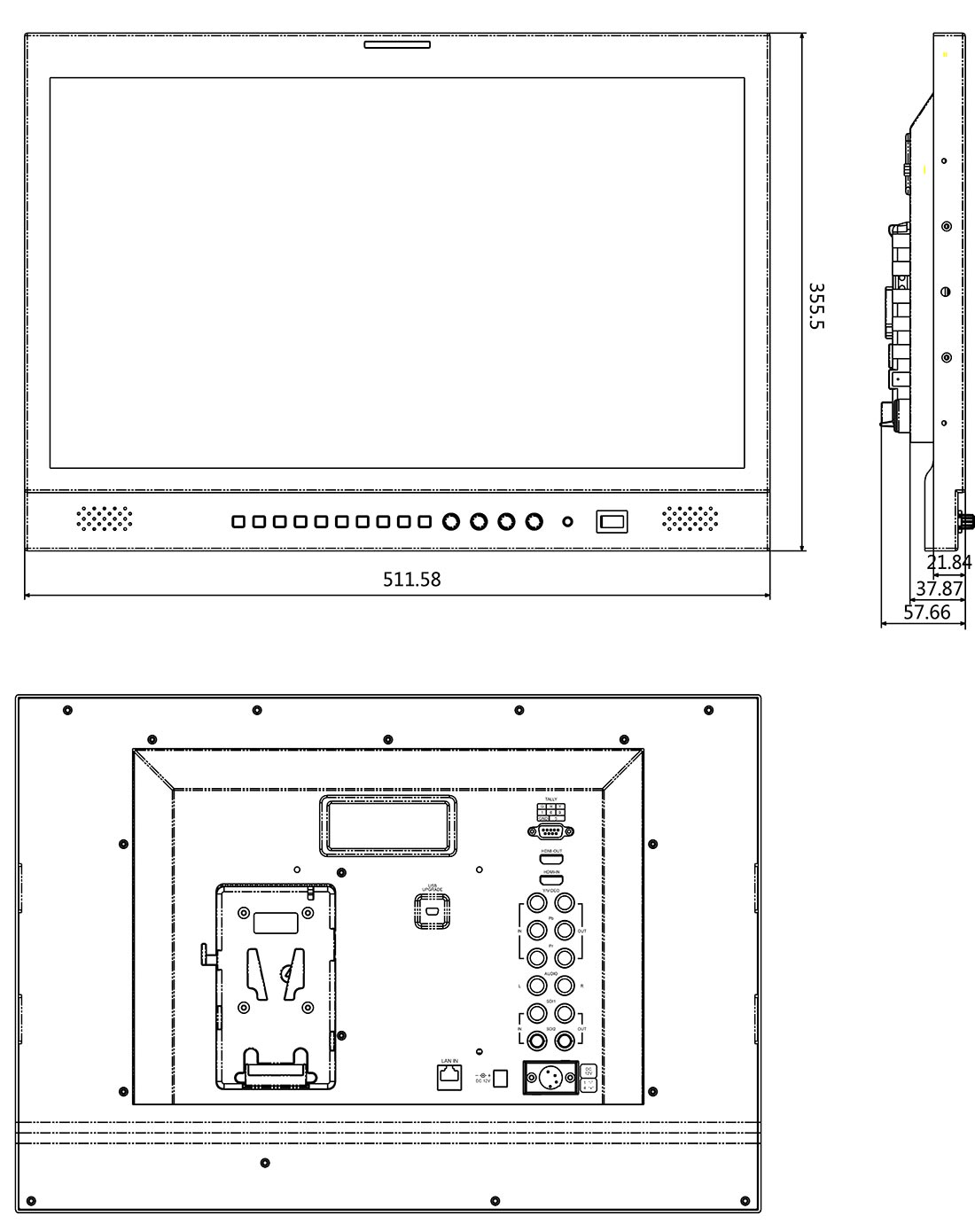 Standard Accessories:
1× Mini HDMI Cable
1× V Battery Plate
1× 3A Power Adapter
1× Tally Kit
1× U bracket
1× Operation Manual