SEETEC P238-9HSD-CO 23.8 inch Carry-on Broadcast Monitor IPS Full HD 1920x1080 3G-SDI 4K HDMI
Model:P238-9HSD-CO
Introduction
Screen Size:  23.8" IPS
Resolution:   1920x1080 pixels
Aspect ratio: 16:9
Brightness:   250cd/m²
Input
3G-SDI, HDMI, YPbPr, DVI, Video, Audio(L/R)
Output
3G-SDI, HDMI, YPbPr, Video, Stereo Headphone, Internal Speaker
DM
Download

OVERVIEW

FEATURES

SPECIFICATIONS

VIDEO

APPLICATION

ACCESSORIES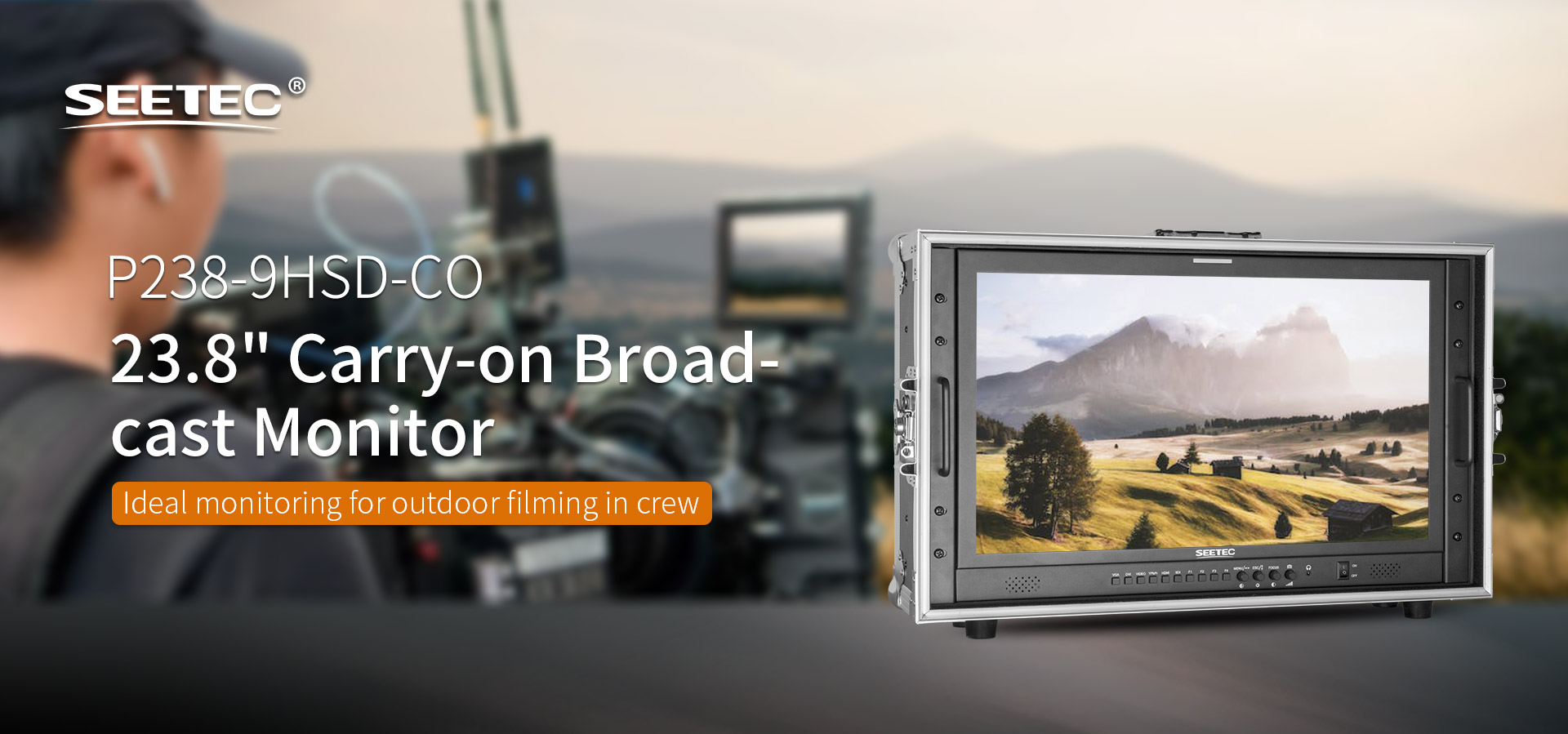 23.8" 4K HDMI/SDI Carry-on Monitor
SEETEC P238-9HSD-CO carry-on monitor is equipped with a portable aviation aluminum case, which can easily handle harsh outdoor environments and frequent scene changes; With a large 23.8-inch screen and a series of auxiliary tools, can help you complete every shot and instilled confidence in knowing no details were missed. It is an ideal choice for film and television crews and broadcasting institution.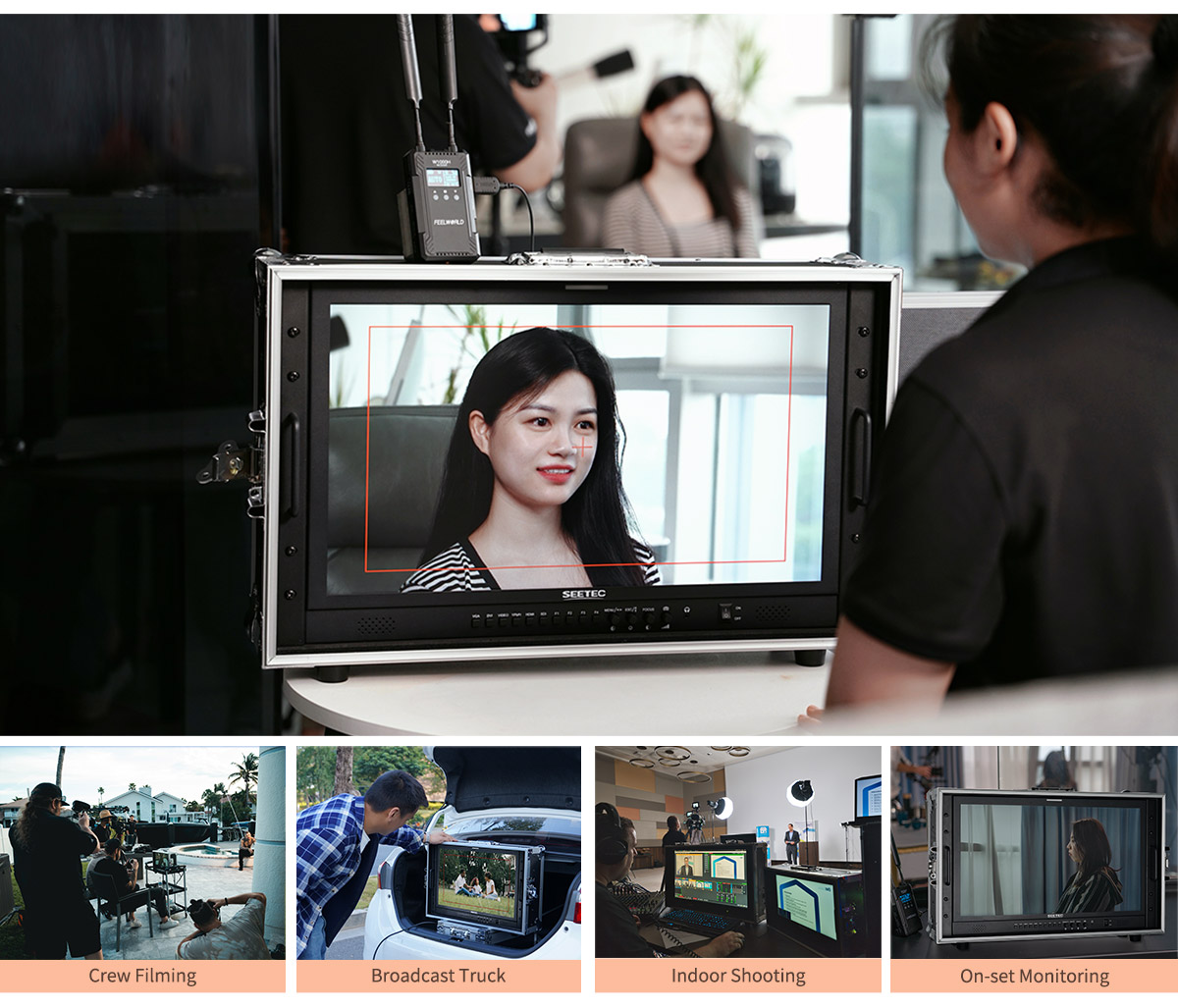 Full HD IPS Panel
Viewing clearly and capture every detail with confidence
With extremely high resolution IPS panel, provides excellent details;covers 72% NTSC color space, accurately reflect the original colors.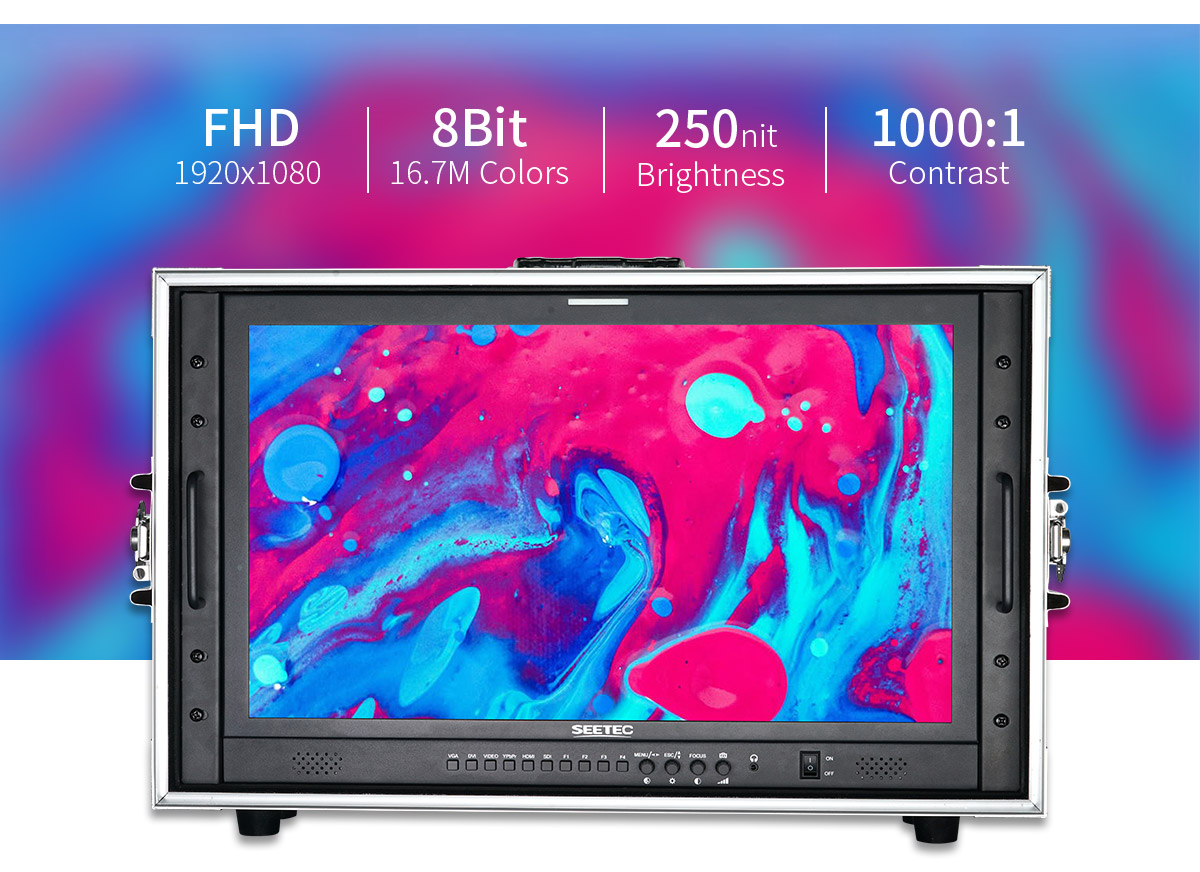 178°Wide Viewing Angle
With a wide viewing angle of 178 °, providing a wider field of view than a regular panel,allowing you to enjoy the ideal picture of bright colors, saturate and nature from any angle you view.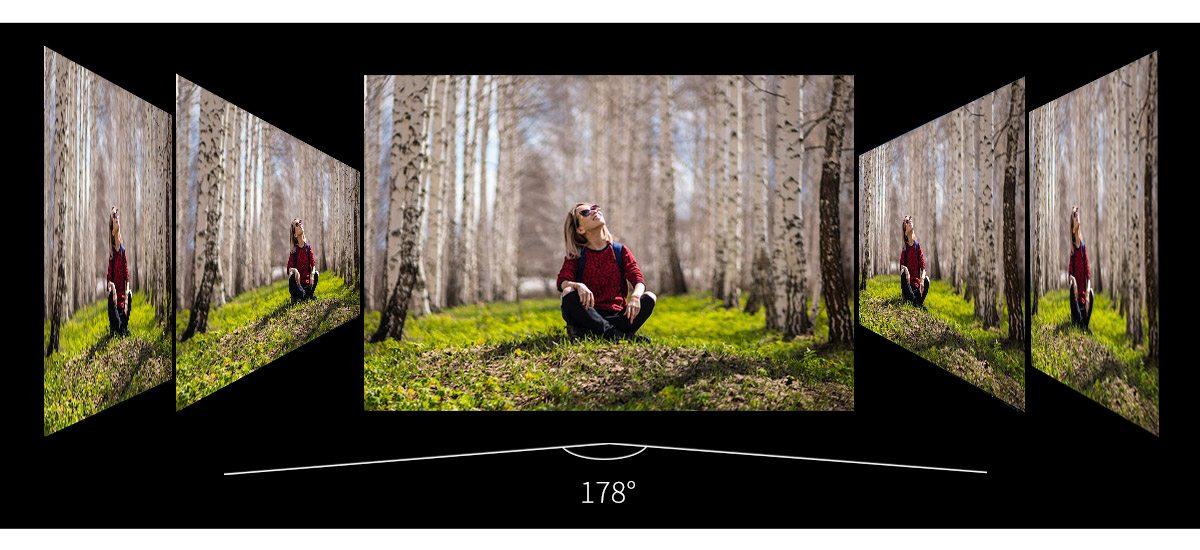 Rec.709 Color Standard
SEETEC uses the professional Rec.709 HD color standard, and uses the color calibration technology, with the professional instrument calibration at the factory, it can achieve monitor calibration efficiently and get accurate color reproduction easily, do not distort the color,show the real image when you shooting video.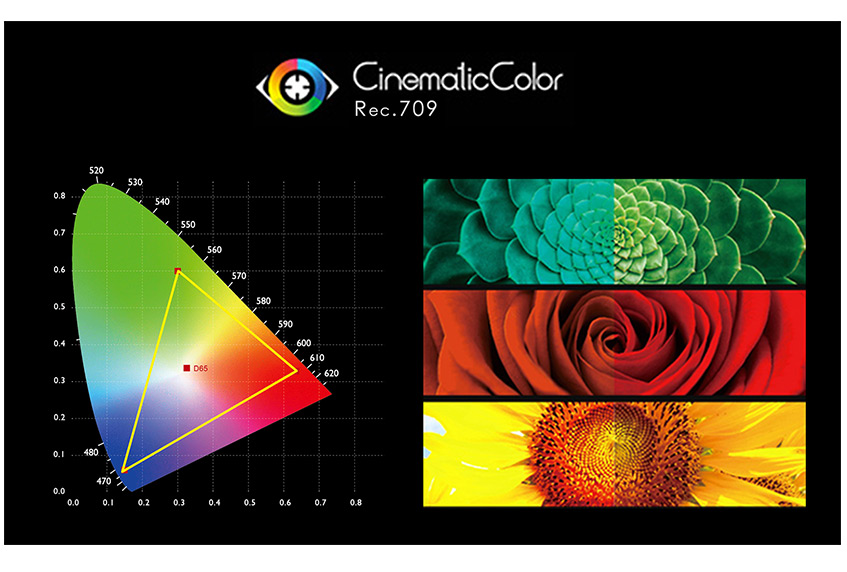 Professional Auxiliary Tools, Easily Focus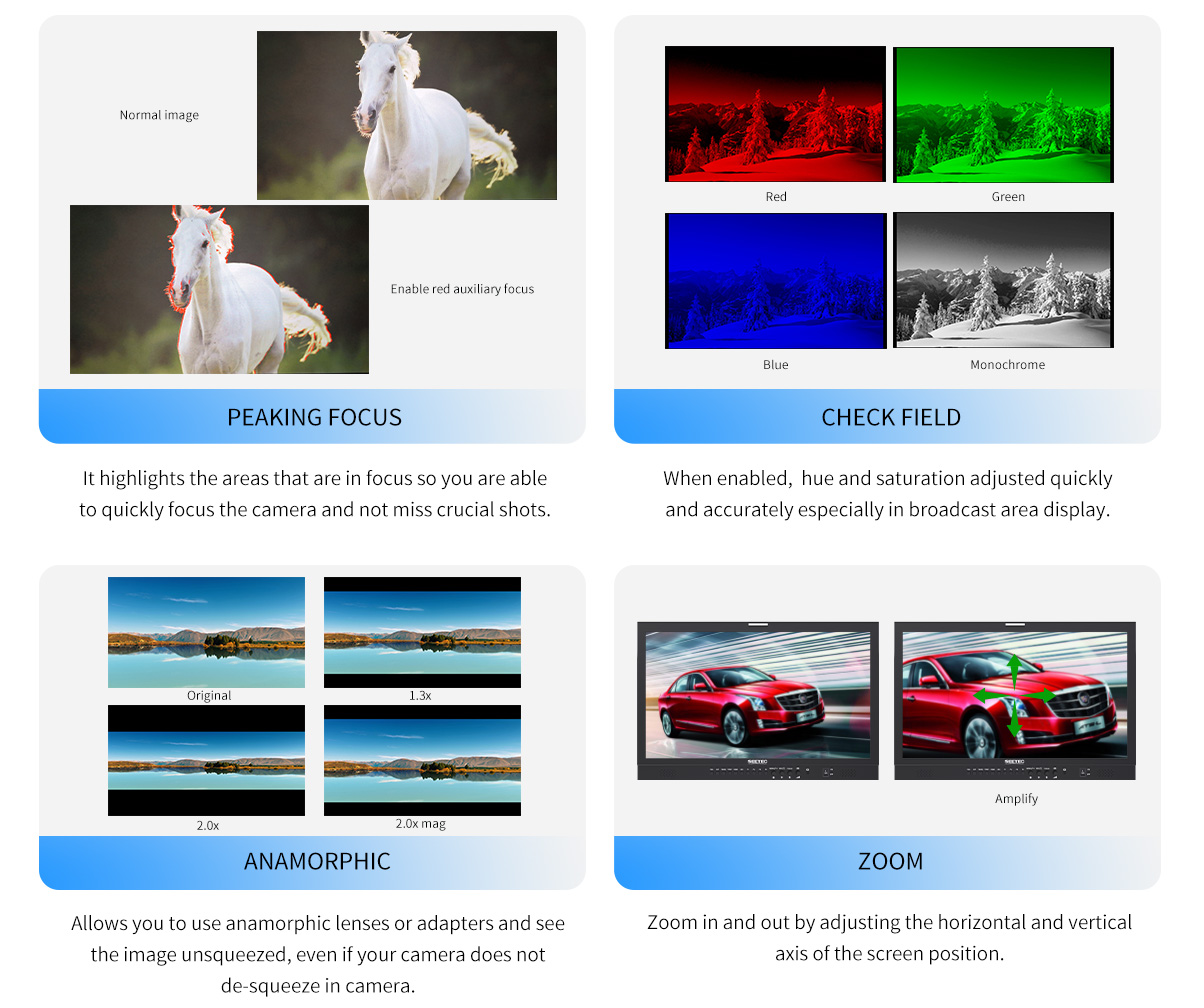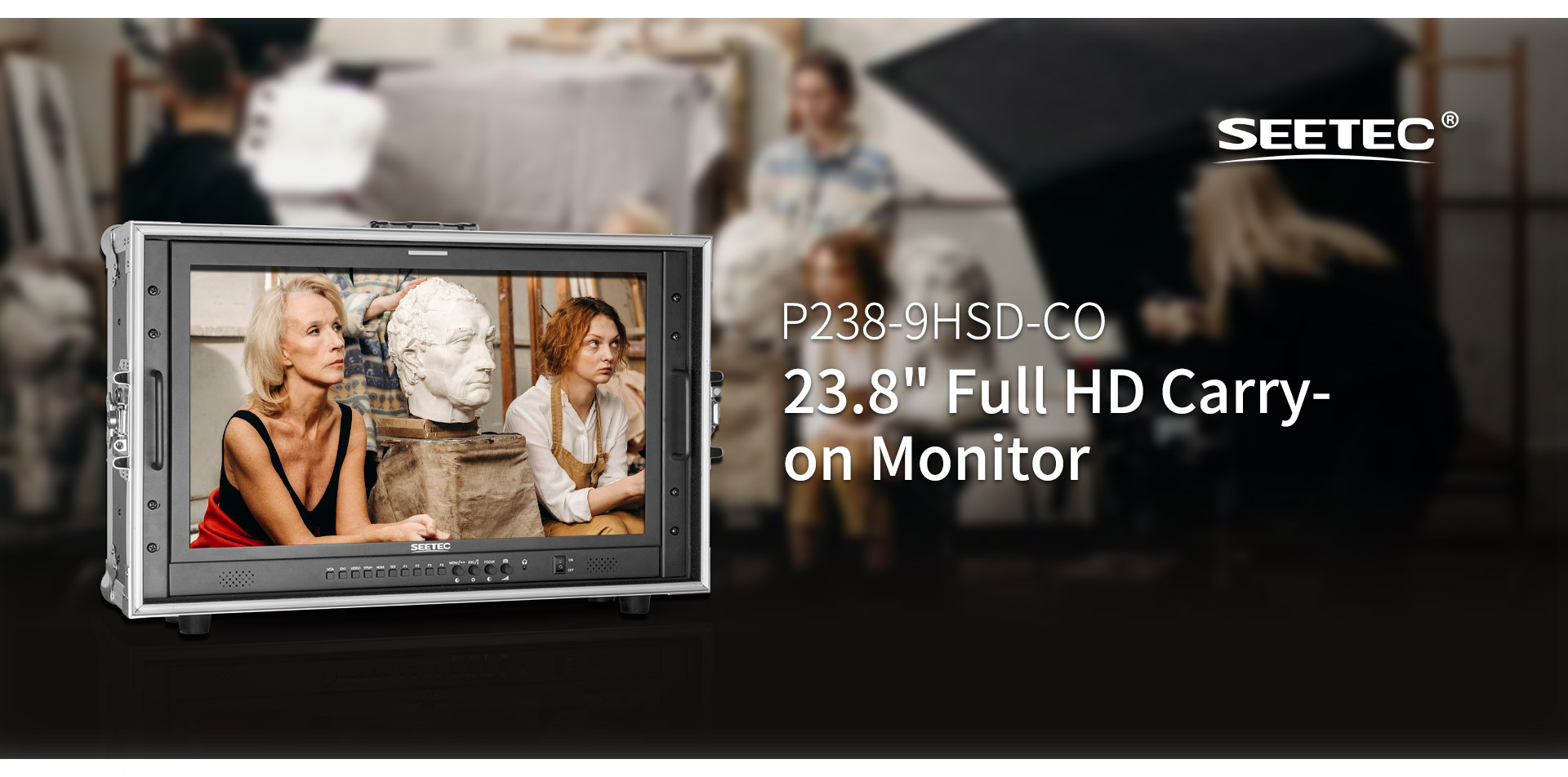 Flexible and Intuitive Button Operation
When you are busy at the shooting scene, you need to be able to easily control the equipment.P238-9HSD-CO is equipped with multi operation buttons and knobs,can switch between one-button sources, and 4 shortcut buttons (F1~F4), you can custom shortcut function according to your needs, such as check field, safe frame and so on. You can also quickly adjust brightness,contrast,volume,etc.to make shooting easier.

Multiple Signal Interfaces, Satisfy Different Needs
The monitor is equipped with 3G-SDI, HDMI, YPbPr, Video, DVI, Audio L/R interfaces, meet all HD, SD, analogue video signal input and display demand.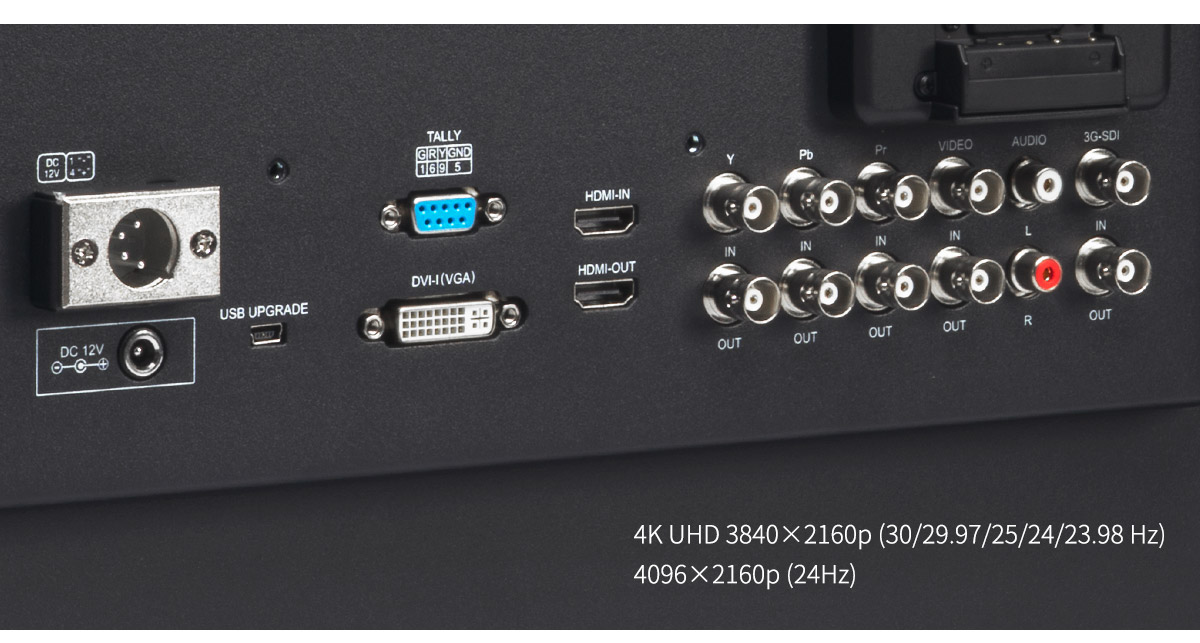 3-color TALLY Light, Enhance Team Cooperation
P238-9HSD-CO includes tally lights on the front and near panel displayed in red, green or yellow tally signal. This means during live production you will always know when you are recording or on-air, or you can see which camera is cued up on your switcher's preview output. Tally is connected via an industry standard parallel pin connector on the rear panel.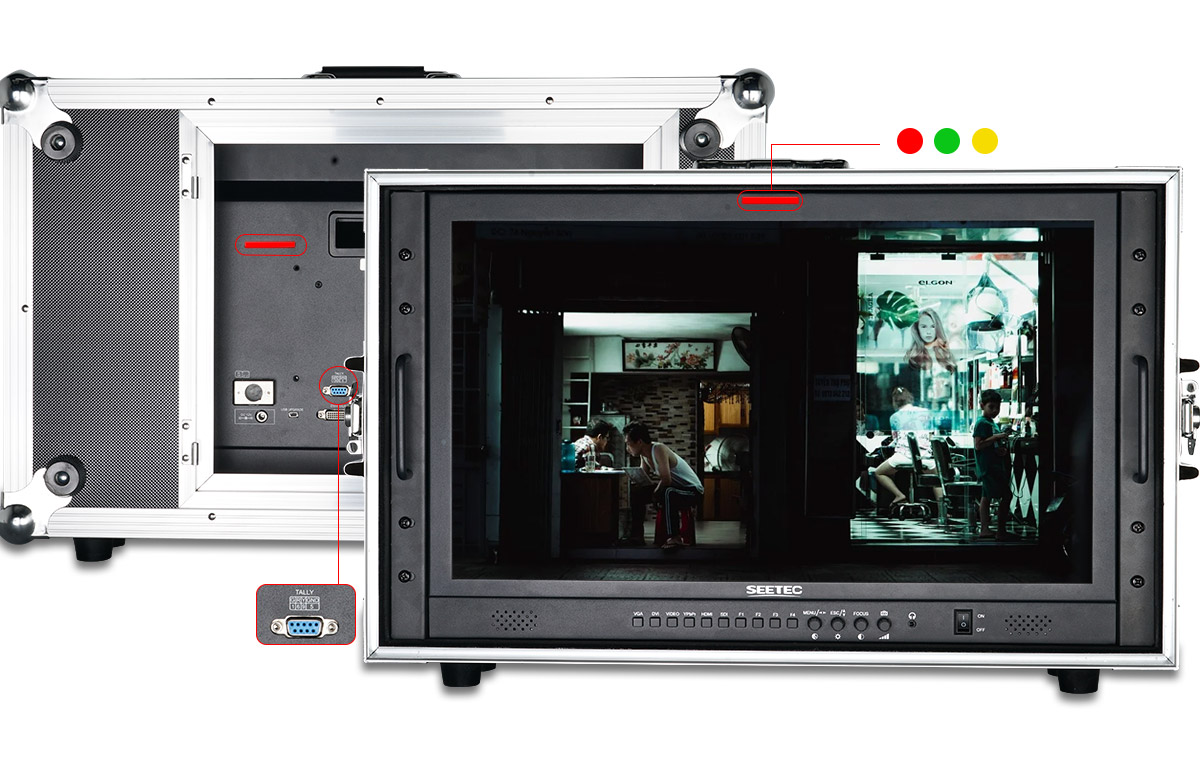 Multiple Power Supply,Long-lasting Power Shooting
The monitor an be powered by DC adapter or lithium battery. For power adapter, you can connect DC IN12V or XLR power interface; for battery, you can mount it on V-mount battery plate (standard) or Anton Bauer battery plate (optional)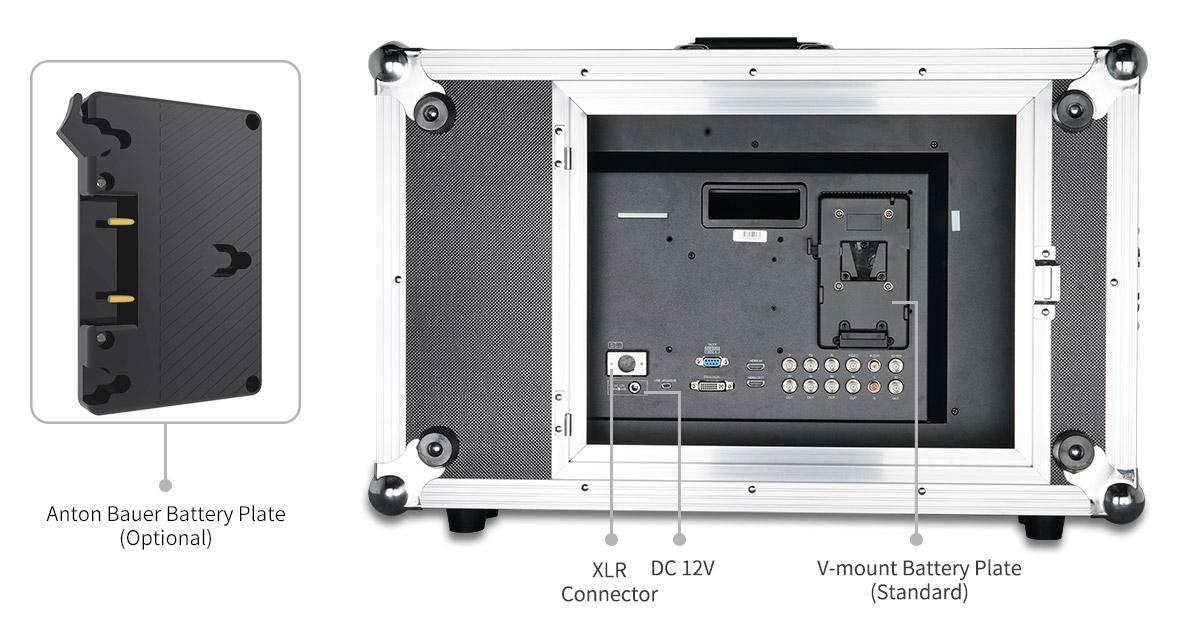 Portable Aviation Aluminum Case
Ideal choice for outdoor filming
Time and Costs are important for film crews. This becomes more obvious if there are frequent scene changes during on-set production. P238-9HSD-CO with rugged and durable aluminium case, it is suitable for carrying and application in different environments, and provides a safer protection for the monitor.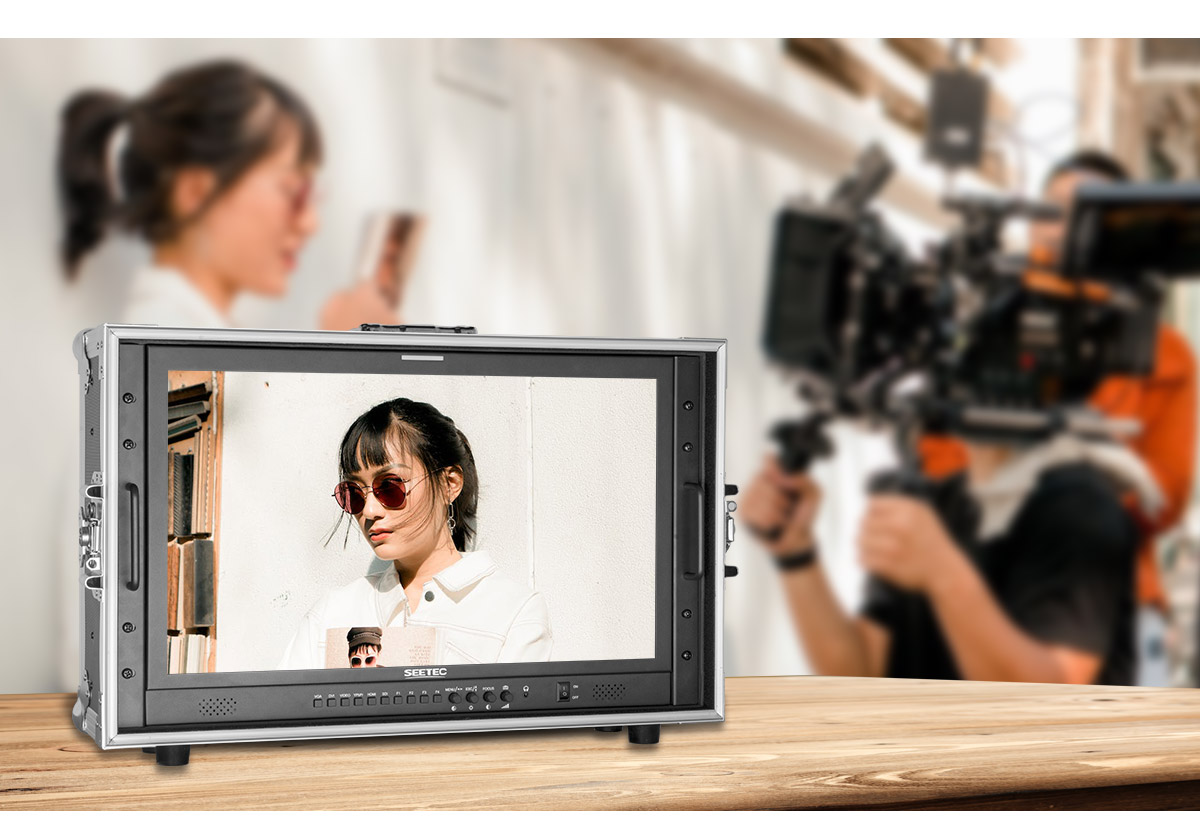 Quickly Disassemble and Assemble, Without Tools Required
The innovative combined structure design can quickly complete the disassembly and installation of the monitor, and easily to make the monitor use for both indoor and outdoor.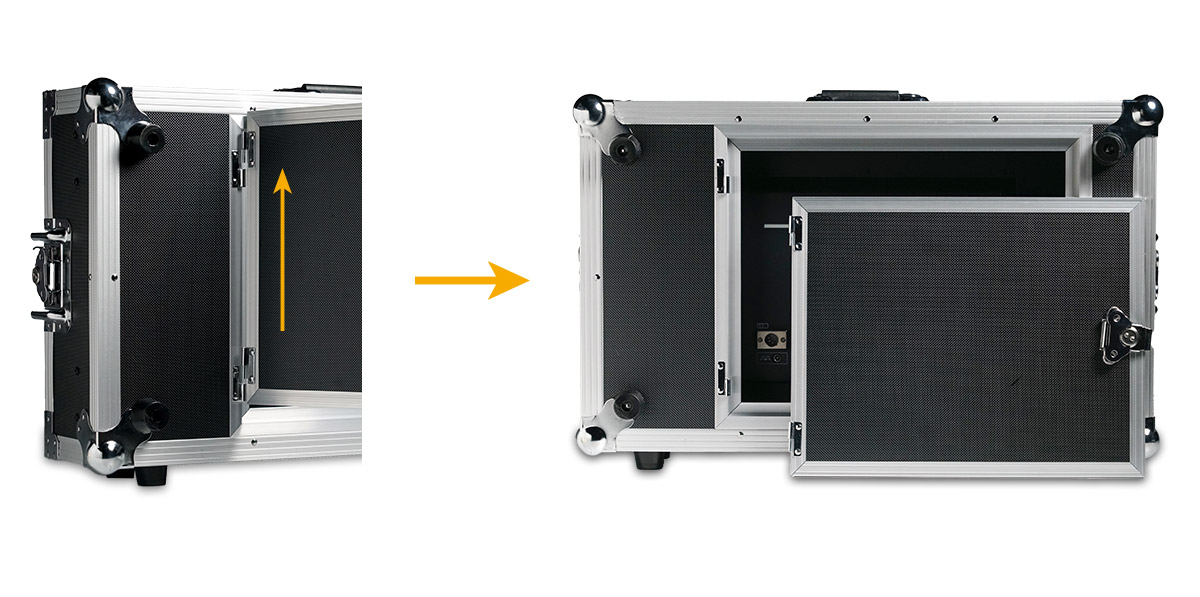 The handle with moderate size and comfortable to hold , effectively relieve the weight-bearing feeling caused by the movement of the device,easy to carry.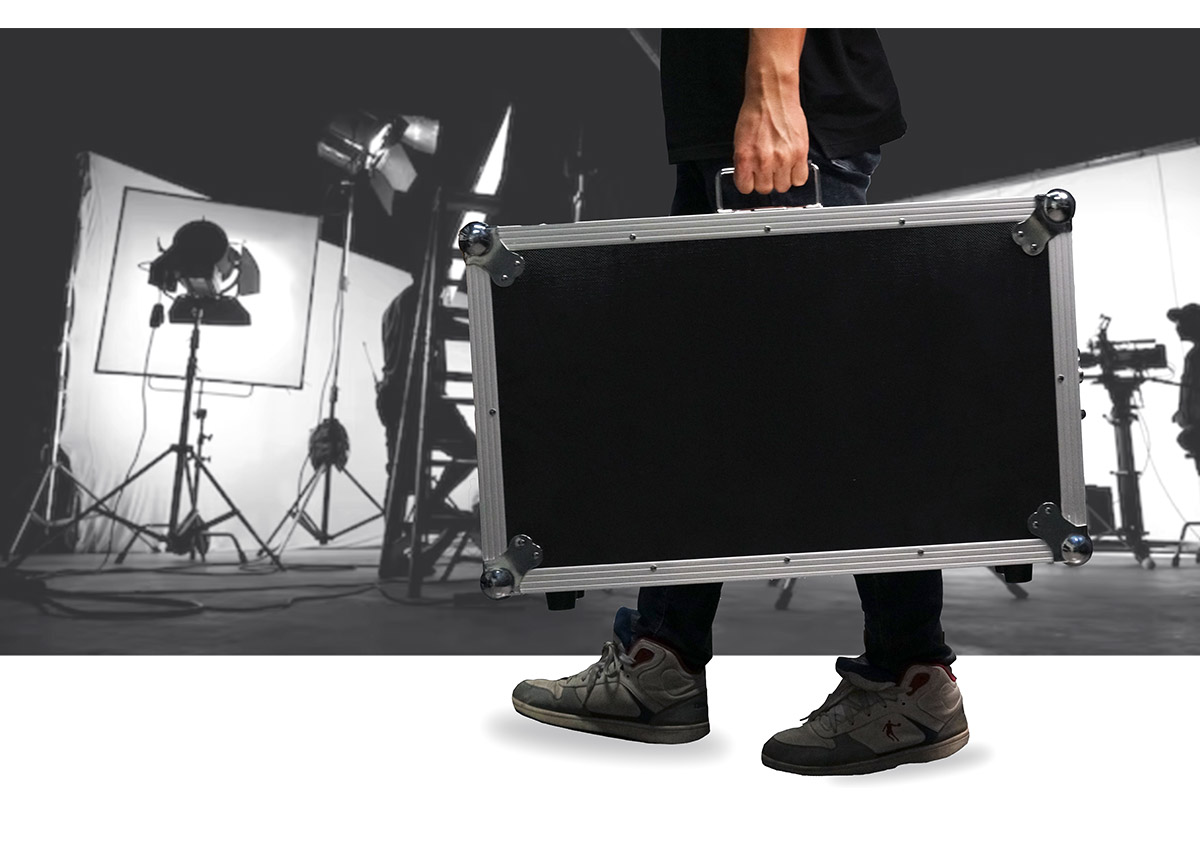 Beautiful Butterfly Shape Lock
Both the case links and the front and rear covers are adopt beautiful butterfly shape locks,durable and good looking.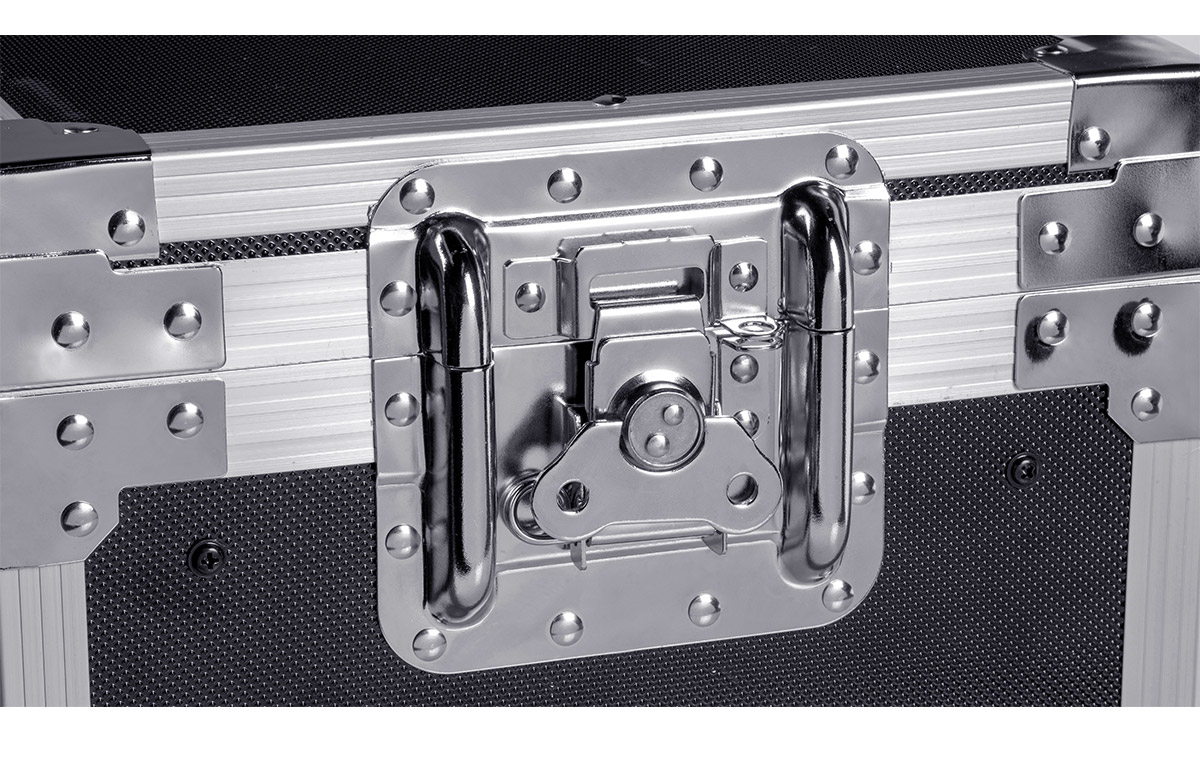 Multi Languages Support,Satisfy Different Needs
P238-9HSD-CO built-in up to 10 languages, meet the different needed.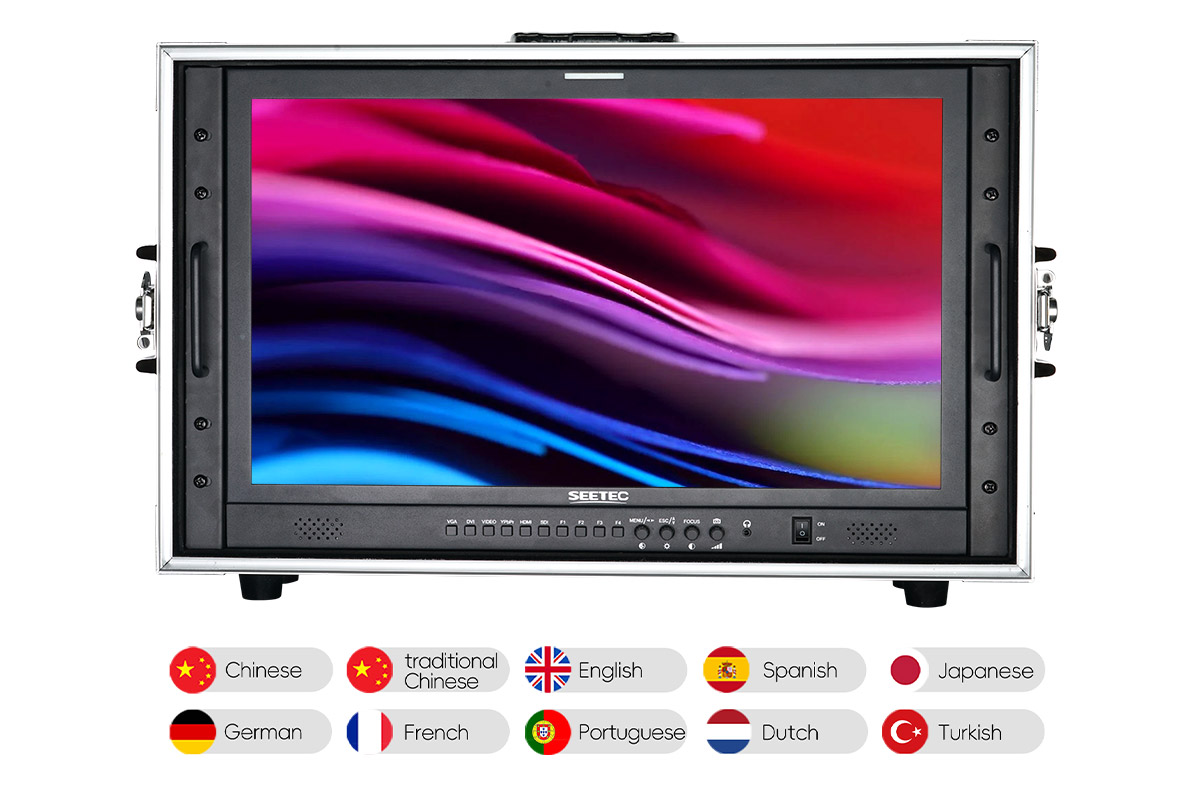 Removable Sun-hood, Fearless of Strong Light
The new generation of removable sun-hood, can achieve good monitoring effect when outdoor shooting.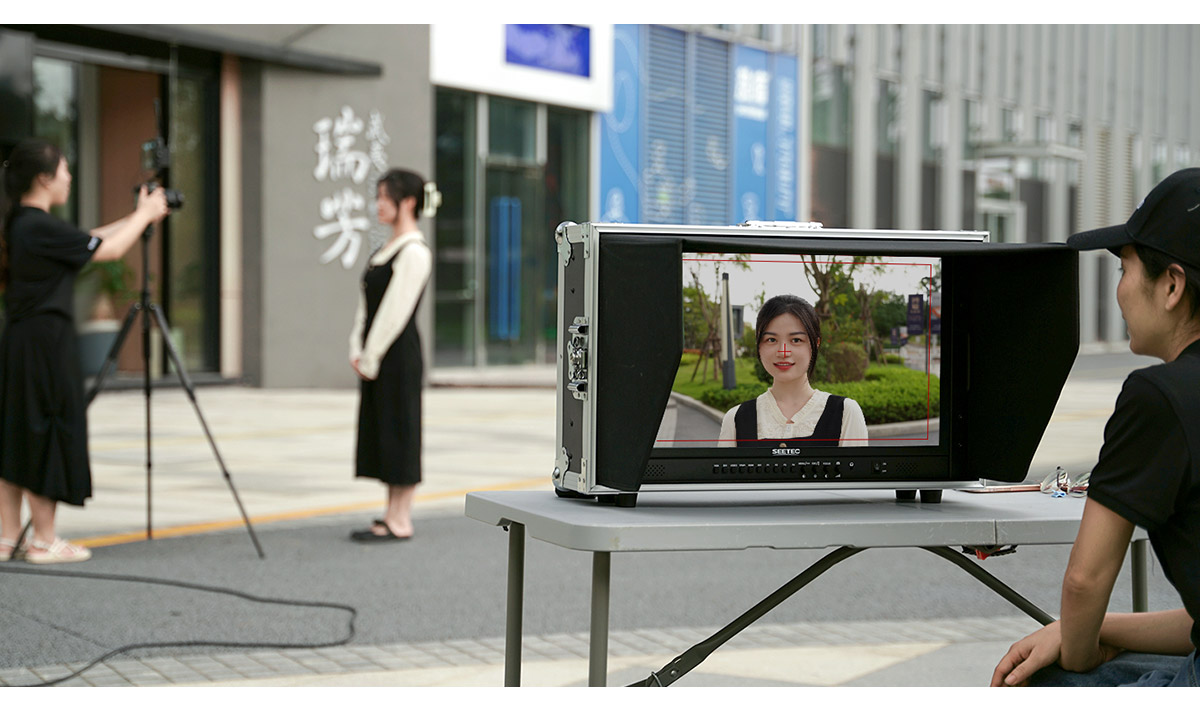 1. Wide view angle, Full HD 1920x1080, bright, colorful display
2. HDMI, 3G-SDI, Ypbpr, Video, Audio(L/R), DVI inputs and HDMI, 3G-SDI, Ypbpr, Video loop-through outputs
3. Special Features:
* Peaking Focus Assist (Red highlight over parts of the monochrome image in focus)
* Check Field (Red, Green, Blue, Mono)
* Camera Mode
* Pixel to Pixel
* Center Marker
* Safe Marker (80%, 85%, 90%, 93%, 96%, 2.35:1)
* Image Flip (Horizontal, Vertical, Hor&Ver)
* Image Freeze
* Zoom All
* U/D & L/R Zoom
4. Monitoring via front panel 3.5mm stereo headphone jack and built-in speaker
5. Built-in LED tally indicators (Red, Green, Yellow)
6. Power using included 12-volt supply or use standard 4-pin XLR
Camera Mode Function
It will be full screen under camera mode.

Pixel to Pixel
Enable the filmmaker to check the image from the 1:1 signal source without scaling. This feature is essential for capturing optimum detail.

Center Marker & Safe Marker
Safe Mark for View Finding and Composition (80%, 85%, 90%, 93%, 96%,2.35:1)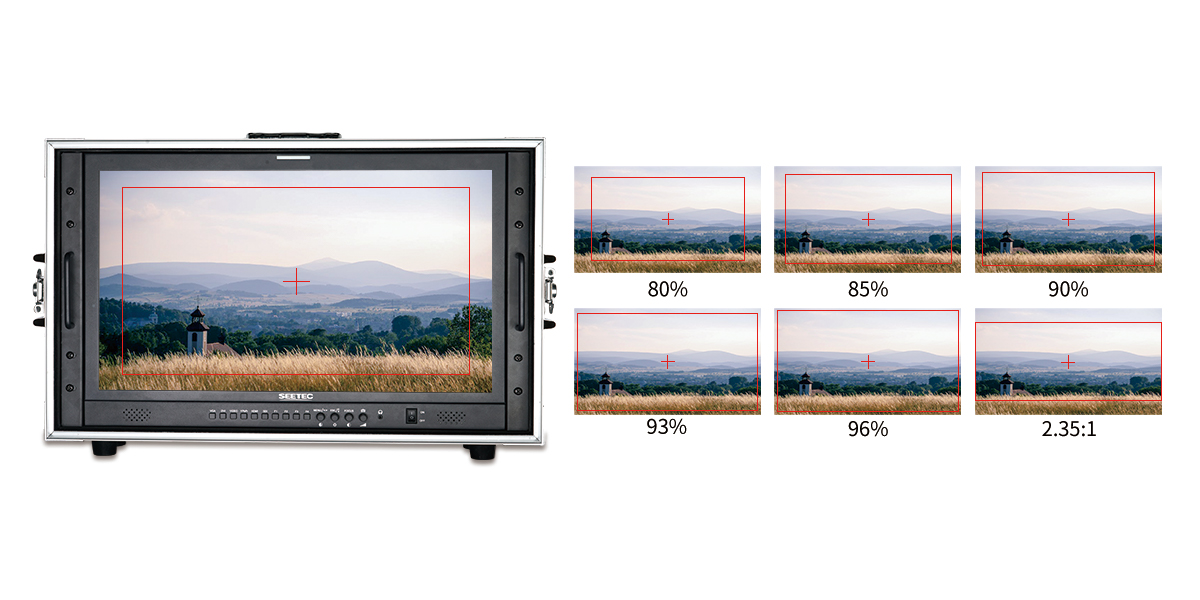 Image Flip
The Horizontal, Vertical and Hor&Ver of the image around flip.

| | |
| --- | --- |
| Model | P238-9HSD-CO |
| Screen Size | 23.8" IPS |
| Color Depth | 16.7M (8-bit) |
| Resolution | 1920×1080 pixels |
| Pixel Pitch | 0.2745 (H) x 0.2745 (V)mm |
| Aspect Ratio | 16:9 |
| Brightness | 250cd/m² |
| Contrast Ratio | 1000:1 |
| Backlight | LED |
| Viewing Angle | 89°/89°(L/R) 89°/89°(U/D) |
| | |
| --- | --- |
| 1 X BNC | 3G-SDI |
| 1 X HDMI | HDMI |
| 3 X BNC | YPbPr |
| 1 X DVI-I | DVI-I |
| 1 X BNC | Video |
| 2 X RCA | Audio(L/R) |
| | |
| --- | --- |
| 1 X BNC | 3G-SDI |
| 1 X HDMI | HDMI |
| 3 X BNC | YPbPr |
| 1 X BNC | Video |
| | |
| --- | --- |
| Audio | Stereo Headphone, Speaker |
480i/576i
720p(60/59.94/50/30/29/25/24/23.98)
1080i(60/59.94/50)
1080p(60/59.94/50/30/29.97/25/24/24sF/23.98/ 23.98sF)
480i/576i/480p/576p
1080i (60/59.94/50)
720p (60/59.94/50/30/29/25/24/23.98)
1080p (60/59.94/50/30/29.97/25/24/24sF/23.98/ 23.98sF)
4K UHD 3840×2160p (30/29.97/25/24/23.98Hz), 4096×2160p (24Hz)
| | |
| --- | --- |
| Input Voltage | DC9~24V |
| Power Consumption | ≤24W |
| Working Temperature | -10°C~50°C |
| Storage Temperature | -20°C~60°C |
| Unit Size | 567Lx372Hx46.7D (mm) (W/O Suitcase) |
| Unit Weight | 5.9kg (W/O suitcase) |
* Peaking Focus Assist(Red highlight over parts of the monochrome image in focus)
* Center Marker
* Screen Marker (80%,85%,90%,93%,96%,2.35:1)
* Image Freeze
* Image Flip (H, V, H/V)
* Camera Mode
* Pixel-to-Pixel
* Check Field (Red,Green,Blue,Mono)
* Zoom All (Nonsupport in 4K input)
* U/D & L/R Zoom (Nonsupport in 4K input)
* Aspect Ratio (Nonsupport in 4K input)
* Custom Color Temperature
* Built-in LED tally indicators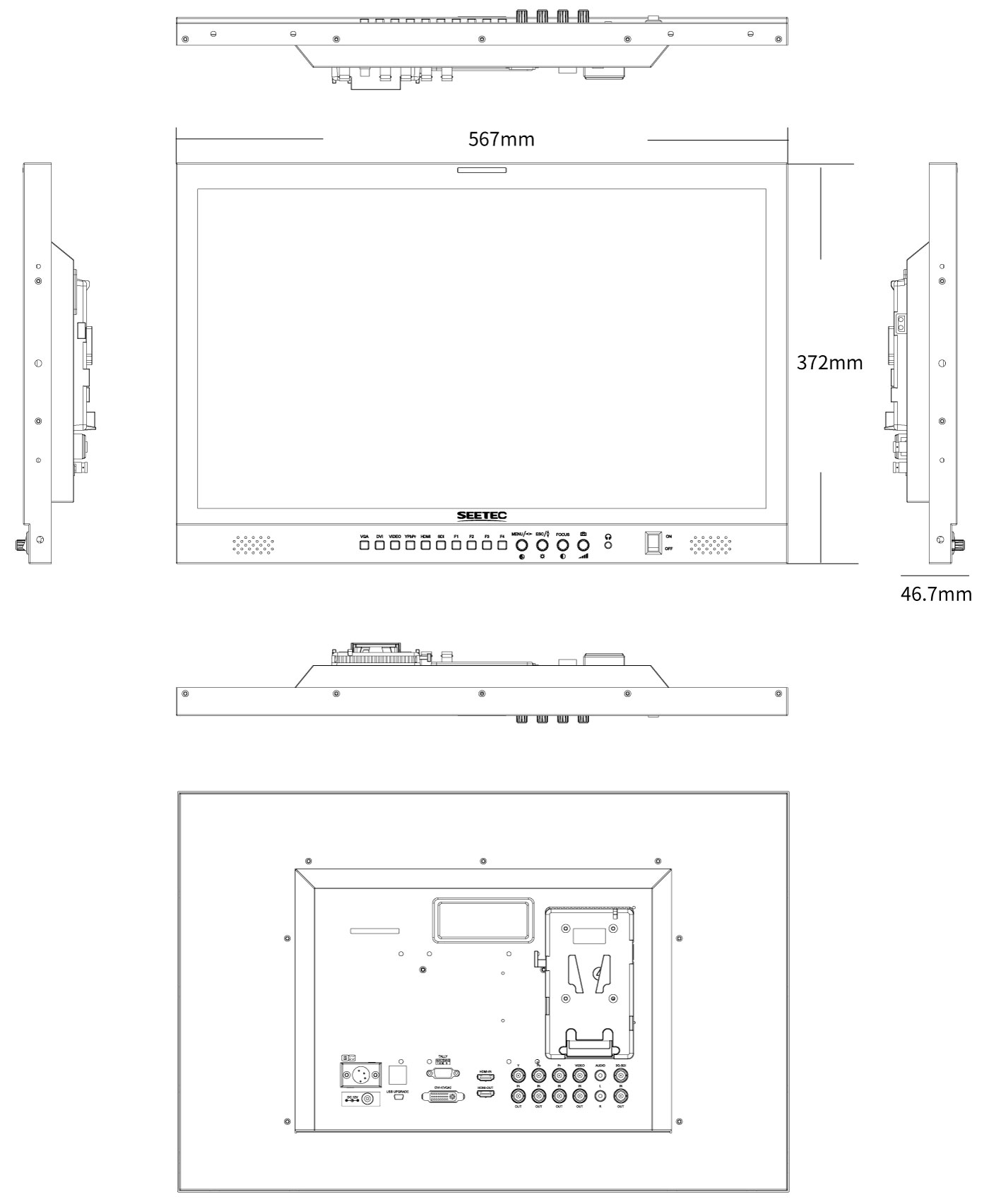 Standard Accessories:
1× Mini HDMI Cable
1× V Battery Plate (default to mount on device)
1× 3A Power Adapter
1× Tally Kit
1× Aluminium Suitcase
1× Operation Manual